Our BSB Training package catalogue includes assessment, facilitator PowerPoint, print and Online Learner Guides and thorough mapping documents.
What do our units include?
BSB Training package units
BSBCMM412 Lead difficult conversations
BSBCMM511 Communicate with influence
BSBCRT511 Develop critical thinking in others
BSBFIN501 Manage budgets and financial plans
BSBHRM522 Manage employee industrial relations
BSBLDR411 Demonstrate leadership in the workplace
BSBLDR413 Lead effective workplace relationships
BSBLDR521 Lead the development of diverse workforces
BSBLDR522 Manage people performance
BSBLDR523 Lead and manage effective workplace relationships
BSBOPS402 Coordinate business operational plans
BSBOPS502 Manage business operational plans
BSBOPS504 Manage business risk
BSBPEF201 Support personal wellbeing int he workplace
BSBPEF402 Develop personal work priorities
BSBPEF502 Develop and use emotional intelligence
BSBPMG420 Apply project scope management techniques
BSBPMG421 Apply project time management techniques
BSBPMG423 Apply project cost
BSBPMG427 Apply project procurement procedures
BSBPMG530 Manage project scope
BSBPMG531 Manage project time
BSBSTR401 Promote innovation in team environments
BSBSTR502 Facilitate continuous improvement
BSBSUS411 Implement and monitor environmentally sustainable work practices
BSBSUS511 Develop workplace policies and procedures for sustainability
BSBTWK502 Manage team effectiveness
BSBWHS411 Implement and monitor WHS policies, procedures and programs
BSBWHS418 Assist with managing WHS compliance of contractors
BSBWHS419 Contribute to implementing WHS monitoring processes
BSBWHS431 Develop processes and procedures for controlling hazardous chemicals in the workplace
BSBWHS513 Lead WHS risk management
BSBXCM401 Apply communication strategies in the workplace
BSBXCM501 Lead communication in the workplace
BSBXTW401 Lead and facilitate a team
BSBXTW301 Work in a team
We are constantly updating our catalogue! If we don't have the Unit you are after- ask us if we have it in development.
Easy Train Now are confident that minimal edits are required. In a bid to minimise the amount of time required in contextualisation, we

brand

your material.
Discounts can be applied for large quantities and for first purchases.
Example of an online learner guide
We think our online learner guides are a cut above the rest. This example is from a Chapter we created based on a cluster request. Scan the QR code to view, or via the link below 🙂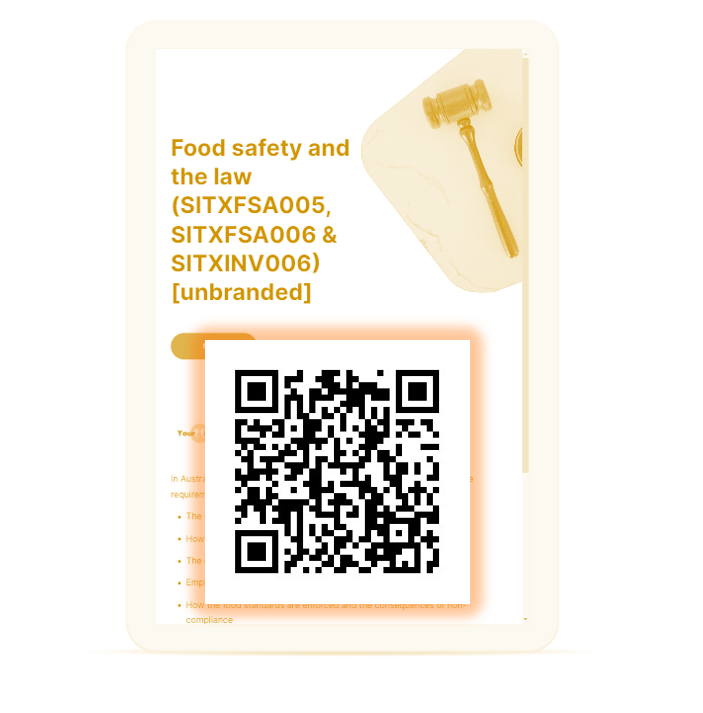 I'm not ready to buy, but I would like more more information or a free sample...
We'd love the opportunity for a coffee catch-up, or a online meet and greet so we can demo some of our products…