Our CHC Training package catalogue includes assessment, facilitator PowerPoint, print and Online Learner Guides and thorough mapping documents.
What do our units include?
All core units (except CHCCCS041 Recognise healthy body systems) include two student assessment packs: a Workplace Assessment Pack and a Non-Workplace Assessment Pack. See what you can expect from our Units via the preview below.
CHC Training package units
CHCCCS031 Provide individualised support
CHCCCS038 Facilitate the empowerment of people receiving support
CHCCCS040 Support independence and wellbeing
CHCCCS041 Recognise healthy body systems
CHCCOM005 Communicate and work in health or community services
CHCDIV001 Work with diverse people
CHCLEG001 Work legally and ethically
HLTINF006 Apply basic principles and practices of infection prevention and control
HLTWHS002 Follow safe work practices for direct client care
CHCAGE011 Provide support to people living with dementia
CHCAGE013 Work effectively in aged care
CHCPAL003 Deliver care services using a palliative approach
CHCDIS011 Contribute to ongoing skills development using a strengths-based approach
CHCDIS012 Support community participation and social inclusion
CHCDIS020 Work effectively in disability support
We are constantly updating our catalogue! If we don't have the Unit you are after- ask us if we have it in development.
Easy Train Now are confident that minimal edits are required. In a bid to minimise the amount of time required in contextualisation, we

brand

your material.
Discounts can be applied for large quantities and for first purchases.
Example of an online learner guide
We think our online learner guides are a cut above the rest. This example is from a Chapter we created based on a cluster request. Scan the QR code to view, or via the link below 🙂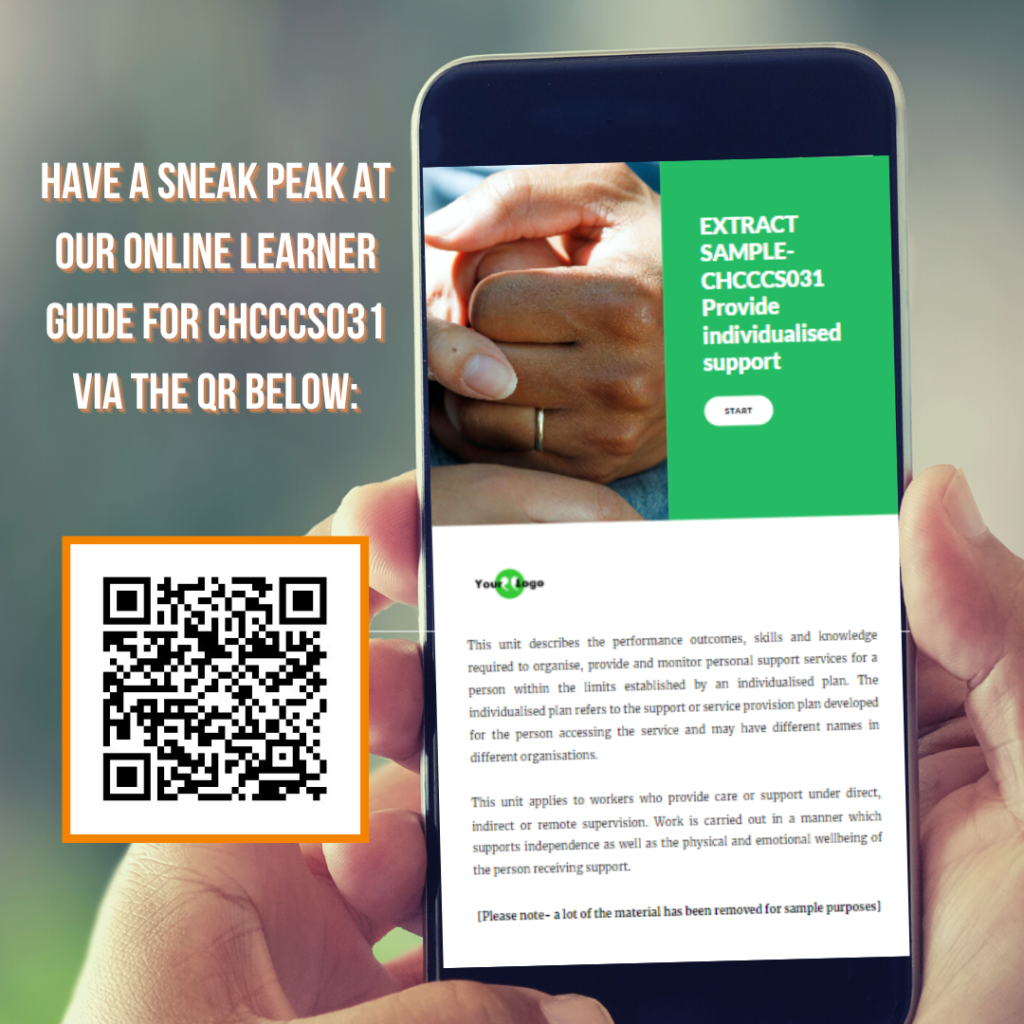 I'm not ready to buy, but I would like more more information or a free sample...
We'd love the opportunity for a coffee catch-up, or a online meet and greet so we can demo some of our products…